The Rack's Thanksgiving Special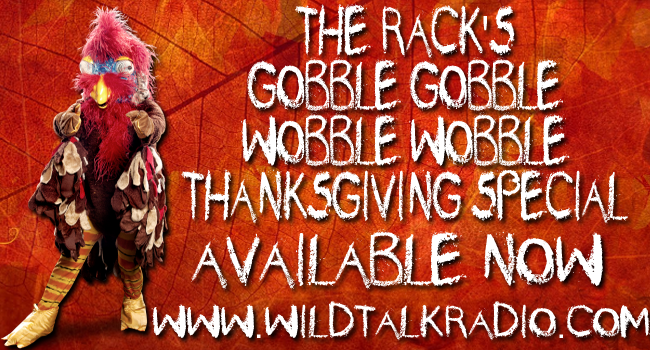 In what will turn out to be your pre-thanksgiving tradition, Its the Gobble Wobble Rack Spectacular! Lindsey Ward & Sir Rockin serve up some pre-thanksgiving thoughts about the world of Pro Wrestling. On the program it was the weekly recap of WWE Network's NXT Program which featured Bayley vs Becky Lynch, The Vaudevillains taking on the Lucha Dragons, Sorta, and Sami Zayn making one final challenge where he puts his career on the line!
We also recapped this past sunday's WWE Survivor Series Pay Per View giving our reactions to all of the landscaping changes that happened on the show. Everything from the show down between Bray Wyatt and Dean Ambrose that left everyone going Tables, Ladders and Chairs, OH MY! Along with the kiss of death between AJ Lee, Brie Bella and Nikki Bella, along with the big Traditional Survivor Series Match which saw a showdown between Luke Harper and Erick Rowan, Big Show turning for the 30th time, Dolph Ziggler stealing the show and the WWE Debut of STING!
Check it all out on this week's special Pre-Thanksgiving Edition of The Rack that will make you go Gobble Gobble, Wobble Wobble, Presented by "Wrestling Figure Wednesdays", PWMania.com & TNASylum.com.
Podcast: Play in new window | Download
Subscribe: RSS
---