The Rack 10-16-14 Kane Interview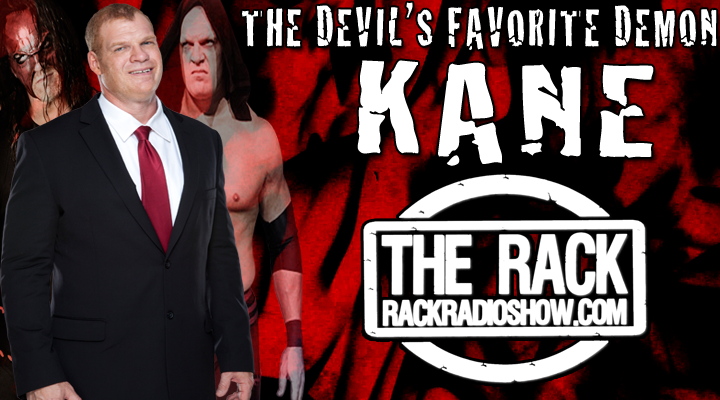 It's a hot time on this week's edition of the 'Multi-Time Award Winning' The Rack! Join host "Our Favorite Demon" Lindsey Ward and the producer "See No Evil" Sir Rockin as they discussed all the news that was the week in pro wrestling, including the shocking news of Justin Roberts' release from the WWE and who may have to step into his shoes, a health update on Daniel Bryan and the news isn't particularly good, NXT announcing when the next live special will be and how the timetable could be shaping up for a big opportunity in the Bay Area, some more news on WWE 2K15 as it inches closer to the highly anticipated release date and much more.
We were also joined by former multi-time WWE Champion, World Heavyweight Champion, Tag Team Champion and the star of 'See No Evil 2', the one and only Kane. In a nearly 15 minute interview, he discussed his newly released film 'See No Evil 2', if he's had a bit more freedom with the Jacob Goodnight character in the sequel, what it was like working with the Soska sisters, the many faces and incarnations of Kane, what he thinks of the newer talent in the WWE today, his favorite Hell in a Cell moment, what the strangest thing he received from a fan was and so much more!
You can follow Kane through his Twitter (@KaneWWE) for all the latest on his news and notes. You can also see Kane in his new film 'See No Evil 2', directed by the Soska Twins (@twisted_twins) and produced by WWE Studios and Lionsgate; make sure to visit the film's official Twitter (@SeeNoEvil2Movie) for the latest See No Evil 2 news. Visit your preferred video retailer to purchase a digital downloads available Friday 10/17 or to pre-order your Blu-Ray/DVD available on 10/21! You can also see Kane weekly on various WWE programing; go to WWE Network to see PPV, shows and archives of the Big Red Machine for only $9.99 or visit WWE.com for program info and check with your local cable provider for channel listings, times and availability in your area.
We also discussed this week's edition of NXT including the blink-and-you-missed-it Ba ron Corbin match, The Legionnaires being no more after Marcus St. Louis snapped on Sylvester LeFort before their match with Enzo Amore and Big Cass which then lead to the successful debut of Carmella, The Ascension giving a special message to Hideo Itami, Becky Lynch coming up lust short against Charlotte and a main event of Sami Zayn vs Tyson Kidd that gave us what you'd probably expect and so much more.
All this, plus Rack Staple: Tweet of the Week and live scoring updates on Thursday Night Football! So, watch out for the pyro, put on your best suit and check it all out on this week's edition of The Rack, brought to you by 'Wrestling Figure Wednesdays', PWMania.com, TNAsylum.com and RackRadioShow.com!
Podcast: Play in new window | Download
Subscribe: RSS
---