The Rack 10-09-14 Mike Kingston Interview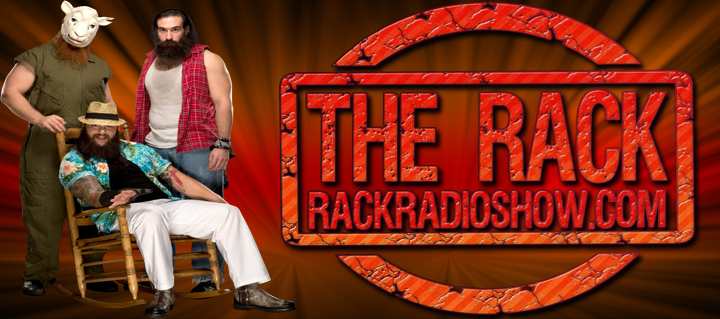 On this week's edition of the 'Multi-Time Award Winning' The Rack, join host Lindsey Ward and the producer Sir Rockin as they discussed all the news that was the week in pro wrestling, including the latest on next week's guest hosts from Atlanta being NeNe Leakes and Todd Christley, the possibility of the Wyatts being featured in a movie, former Rack Guest Santino Marella announcing his engagement to his long-term girlfriend, WWE Hall of Famer 'Superstar' Billy Graham's recent hospitalization, Christ Jericho may be back in November for the WWE European tour and much more.
We were also joined by writer and creator of the comic series "Headlocked" Mike Kingston! In a nearly 20 minute interview, he discussed his upcoming second volume and the Kickstarter campaign, what it's like going to comic conventions with the likes of Shane Helms and Jerry Lawler, how people like Kazarian, Christopher Daniels and Jerry Lawler got involved with the project, what is the goal of his comic series and how it got started, what he looks for in today's wrestling product and what is favorite promotions are, how he got involved in comics and what were some of his favorites and so much more.
You can follow Mike through his Twitter (@TheMikeKingston) or his Facebook (http://www.facebook.com/headlockedcomic) for all the latest on his news and notes. You can also help donate to his 'Headlocked: The Last Territory" Kickstarter by visiting the page (https://www.kickstarter.com/projects/180977151/headlocked-the-last-territory-vol-2) in order to help fund the project, get updates and possibly gain some perks for your donation including items sgned by Mike and cover artist Jerry 'The King' Lawler!
They also discussed this week's edition of NXT including the increased focus and aggression by Tyler Breeze, Enzo Amore playing 'Scorsese' in trying to get Camilla an NXT try-out, Viktor of the Ascension taking on NXT newcomer Hideo Itami and the subsequent beatdown of Itami's friend Funaki as payback, Rack favorites The Vaudevillians in action, Sasha Banks trying to prove to Becky Lynch why she's 'the BOSS' and deserves a shot at the NXT Women's Title held by her former BFF, and the main event of Sami Zayn taking on Titus O'Neil with an appearance by NXT Champion Adrian Neville and so much more.
All this, plus Rack Staple: Tweet of the Week and live scoring updates on Thursday Night Football as well as Question of the night 'Would you like to see The Rock vs Triple H at WrestleMania 31?! So, check it all out on this week's edition of The Rack, brought to you by 'Wrestling Figure Wednesdays', PWMania.com, TNAsylum.com and RackRadioShow.com!
Podcast: Play in new window | Download
Subscribe: RSS
---