The Rack 09-18-14 Brian Shields Interview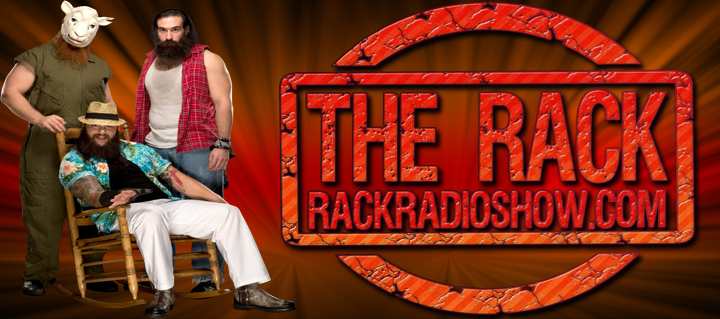 On this week's edition of the 'Multi-Time Award Winning' The Rack, join host Lindsey Ward and the producer Sir Rockin as they discussed all the news that was the week in pro wrestling, including the latest on the injury to Santino Marella and what his future may hold as well as the latest news on WWE 2K15 and now the next gen system gamers may have to hold on for a bit longer and much more.
We were also joined by New York Times Bestseller and author of the WWE Encyclopedia and the newly released book '30 Years of WrestleMania' Brian Shields! In a nearly 60 minute interview, he discussed his new book 30 Years of WrestleMania, how he feels now that it is released to the public, what the book has to offer to readers, what some of his favorite rivalries were, what it was like talking to Triple H and his take on the 'End of the Era' moment, what celebrities he was able to talk with in terms of this book, his thoughts on NXT and the future of WWE as well as the newest signings to developmental, what he sees as the legacy of WrestleMania and so much more.
You can follow Brian through his Twitter (@itsbrianshields) or his website (http://mightypenandsword.com) for all the latest on his news and notes. You can pick up Brian's new book 30 Years of WrestleMania with a foreword written by WWE Hall of Famer Shawn Michaels! Go to www.amazon.com, www.barnesandnoble.com or visit your local book retailer for ordering information and availability of this and any of his other works, including The WWE Encyclopedia: Updated and Expanded Edition co-authored by Kevin Sullivan.
They also discussed this week's edition of NXT including the in-ring of the sport entertainer formerly known as KENTA (now Hideo Itami) and how a certain group of former Tag Team Champions wanted to welcome him in after Takeover 2, Charlotte letting some aggression out on a returning Emma, Enzo Amore and Cas meeting up with Camilla again at the salon and the main event of a visiting Titus O'Neal and Tyson Kidd taking on NXT Champion Adrian Nevile and Sami Zayn with some miscommunication costing a team the bout in the end.
We also had a couple of big announcements concerning next week's show and how it was going to be 'Rated R' with the appearance of Haven star, WWE Hall of Famer and multi-time former Tag Team Champion, WWE Champion and World Heavyweight Champion Adam "Edge" Copeland! Plus, we has host/Listener Pick'ems for WWE's Night of Champions for the chance to win a copy of the 30 Years of WrestleMania from DK Publishing, as well as Rack Staple: Tweet of the Week and live scoring updates on Thursday Night Football! So, check it all out on this week's edition of The Rack, brought to you by 'Wrestling Figure Wednesdays', PWMania.com, TNAsylum.com and RackRadioShow.com!
Podcast: Play in new window | Download
Subscribe: RSS
---