The Rack 09-11-14: Eva Marie Interview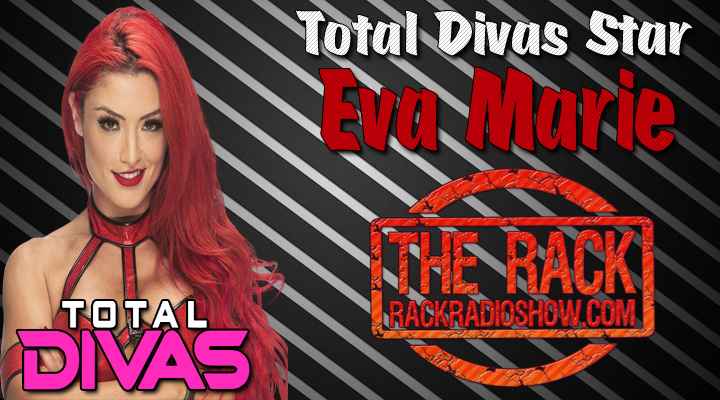 On this week's edition of the 'Multi-Time Award Winning' The Rack, join host Lindsey Ward and the producer Sir Rockin as they discussed all the news that was the week in pro wrestling, including the tragic passing of Sean O'Haire earlier this week, the record breaking season debut ratings for Season 3 of 'Total Divas' last Sunday, the temporary holding pattern of Smackdown to Friday nights on SyFy, CM Punk and WWE at legal odds with one another, the latest Daniel Bryan health update and it seems to be some good news for once, Bobby Lashley winning his Bellator match last weekend, the latest on TNA's TV dealings and so much more.
We were also joined by WWE Diva and star of E! Network's show "Total Divas" Ms. 'All Red Everthing' Eva Marie! In a nearly 10 minute interview, she discussed the new season of Total Divas, what we can expect for the Divas, what it was like to work at WrestleMania XXX, how the WWE has changed her life if at all, what has been her biggest struggle so far, her favorite moment so far in her career, how has the dynamic of the show changed with the new additions (Summer Rae and Rosa Mendes) and more.
You can follow Eva Marie through her Twitter (@natalieevamarie) or her website (www.evamarieworld.com) to stay up-to-date on all the latest on her news and notes. You can see also see Eva and the rest of the 'Total Divas' cast as part of E! Network's show 'Total Divas' which just kicked off its third season this past Sunday, at 9 pm ET/8 pm CT; check your local cable listings for channel availability and show time. You can also see Eva Marie as part of the weekly WWE TV Programming; go to www.wwe.com or follow WWE on Twitter (@wwe) for show times, channel listings and the latest news and notes!
They also discussed this week's edition of NXT Takeover 2 Special event! They talked about the debuts of both KENTA (now known as Hideo Itami) and Baron Corbin, the crowning of NEW NXT Tag Team Champions, a fantastic NXT Women's Title match that took away anyone's doubt about either competitor, someone losing their hair (and not who you'd expect), and a fantastic main event Fatal Fourway that saw many close finishes someone soaring above the competition, plus so much more.
We also had a couple of big announcements concerning Rack favorite guest and New York Times best-selling author Brian Shields returning next week to discuss his recently released '30 Years of WrestleMania' book and the chance to win a copy of the book from DK Publishing, plus Rack Staples: Tweet of the Week and Question of the Night: "Which of the recent signings to NXT are you most excited to see?'! So, check it all out on this week's edition of The Rack, brought to you by 'Wrestling Figure Wednesdays', PWMania.com, TNAsylum.com and RackRadioShow.com!
Podcast: Play in new window | Download
Subscribe: RSS
---