The Rack 06-05-14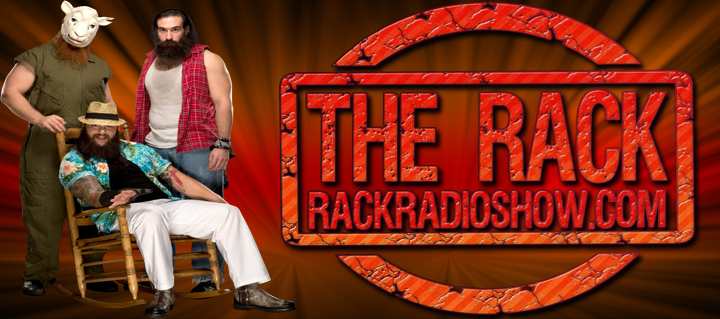 On this week's edition of the Multi-Time Award Winning,The Rack, join host Lindsey Ward and the producer Sir Rockin as they discussed all the news that was the week in pro wrestling, including the possibly PPV altering injury to MVP, the latest injury news about WWE Heavyweight Champion Daniel Bryan and the latest isn't exactly good, the latest of the Von Erich clan making a debut at Slamiversary, real-life couple Robbie E and Booke Tessmacher joining the latest season on CBS' reality show 'The Amazing Race', the 10-year Anniversary of Impact on TV this week, the surprise surgery of Tamina Snuka, Heath Slater welcoming in a new addition to the family, WWE offering financial planning help and education assistance for former talent and referees and much more!
They also discussed this week's editions of NXT from the WWE Network including the debut of Tyler Breeze's new music video, the return of Summer Rae to the BFF's (and they ere none to happy it appeared) and a rematch between Adrian Neville and Tyson Kidd as well as an immediate recap of Impact Wrestling including a 'horn off' (yeah, not joking), the latest between Cowboy James Storm and 'Cowboy' Ken Anderson, Samuel Shaw/Gunner's adventures in LooneyLand, and the rising tension between MVP's new crew, Dixie's clan and the TNA resistance led by Eric Young and returning Austin Aries and Samoa Joe and so much more.
We also reviewed NXT Takeover and all the fantastic matches, recapped not only WWE's Payback Special Event but the host/listener pick'ems as well and looked at the biggest news of the week in the dissolving of the Shield as we know it with the turning of Seth Rollins against his brother in arms. All this, along with Rack Staples: Tweet of the Week and Question of the Night 'What was your favorite WWE match from the past 7 days?'! So, mourn the Shield, wipe your tears away and tune it and check it all out on this week's edition of The Rack, brought to you by 'Wrestling Figure Wednesdays', PWMania.com, TNAsylum.com and RackRadioShow.com!
Podcast: Play in new window | Download
Subscribe: RSS
---