The Rack 01-22-15 Jim Ross Interview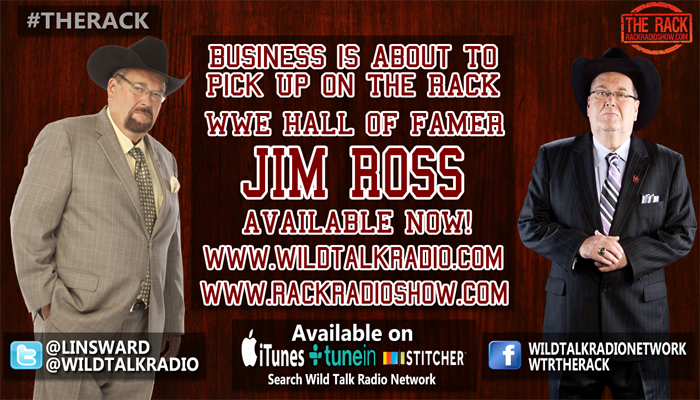 On this week's edition of the 'Multi-Time Award Winning' The Rack, join host Lindsey Ward and the producer Sir Rockin as they discussed all the news that was the week in pro wrestling, including the official announcement of the location of WrestleMania XXXII being AT&T Stadium in Dallas. TX! as well as the current WrestleMania schedule (or lack thereof) of a certain mainstay in the Deadman and what that could possibly mean and much more news and notes.
We were also joined by legendary wrestling commentator and WWE Hall of Famer Jim Ross! In a nearly 25 minute interview, he discussed the College Football playoffs and if they worked, what it was like commentating on the WrestleKingdom 9 event, if he feels New Japan Pro Wrestling can find success within the North American market, what fans can expect from his one-man shows, his thoughts on the Undertaker and what he feels Taker's lasting legacy may be, he opinion on Bray Wyatt and what the future may hold for that character and so much more.
You can follow JR through his Twitter (@JRsBBQ) or his website (www.jrsbarbq.com) to stay up-to-date on all the latest on his news and notes. You can see also see JR as part of his one-man show "Ringside: An Afternoon with Jim Ross" this weekend in Philadelphia, PA at Underground Arts at 3 PM; go to www.axs.com for ticketing information and availability. You can also hear JR as part of the "GFW Presents New Japan Pro Wrestling's Wrestle Kingdom 9" rebroadcast; contact your local cable provider for rebroadcast times, cost and availability.
We also a look back at this week's noteworthy NXT including the announcement of the next NXT Takeover live event on the WWE Network coming LIVE February 11th, including the booking of Sami Zayn vs Kevin Owens in a non-title grudge match, the creation of a No. 1 Contender's tournament which will culminate at Takeover, a fatal four-way match for the NXT Women's title involving the team of the Bae's and the Friends of Charlotte and Bailey (but with one standing tall over the other tonight) plus so much more.
All this, plus Rack Staples: Tweet of the Week, and the official Rack Royal Rumble preview with match analysis and pick'ems from the hosts for every match including who will win the Royal Rumble itself.
So, check it all out on this week's edition of The Rack, brought to you by 'Wrestling Figure Wednesdays', PWMania.com, TNAsylum.com and RackRadioShow.com!
Podcast: Play in new window | Download
Subscribe: RSS
---