The Rack 10-02-14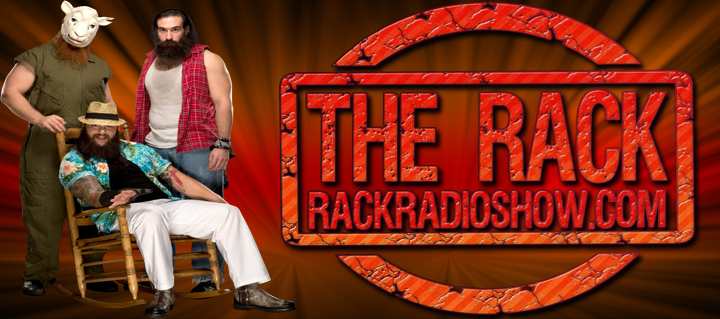 Why watch or pay attention to another Thursday Night Football blowout when you can listen to what happened on this week's edition of the 'Multi-Time Award Winning' The Rack!? Join host Lindsey Ward and the producer Sir Rockin as they discussed all the news that was the week in pro wrestling, including the the release of the Game play trailer and more in-depth information regarding WWE 2k15's MyCareer mode, the release of two NXT personnel including former WWE talent Nick 'Eugene' Dinsmore, the announcement of the TNA 'Bound for Glory' card including host reactions and the news of their signing of Indian wrestler Mahabali Shera, William Regal's stage show getting more dates in the UK, Kurt Angle signing a new deal but no details yet with whom it could be, the latest on Global Force Wrestling and much more.
We also discussed this week's edition of NXT including NXT World Champion Adrian Nevile facing Tyson Kidd in Kidd's last chance at the NXT title, the development of Carmella and her interactions with Enzo Amore and Big Cass, the Vaudevillians in action, Hideo Itami getting roughed up by The Ascension but got a pledge of support offered by 'Smackdown Number One Announcer' Funaki plus Bailey getting another crack at Charlotte and her NXT Women's Title in a Takeover 2 rematch and someone after the match showing why they are 'The Boss' and deserve a chance at the belt as well and much more.
We also had the latest on the rumor concerning a certain host's favorite family and what may be in the cards for them going forward as well as a rant from both hosts in terms of the supposed decision by the WWE to break up the Wyatt Family, as well as Rack Staples: Tweet of the Week, live scoring updates on Thursday Night Football, and our Question of the Night, 'With Smackdown 15 coming up (The 15th Anniversary of Smackdown's Debut), what's your favorite Smackdown Moment?'! So, check it all out on this week's edition of The Rack, brought to you by 'Wrestling Figure Wednesdays', PWMania.com, TNAsylum.com and RackRadioShow.com!
Podcast: Play in new window | Download
Subscribe: RSS
---